GREETINGS
社長メッセージ
To pursue a real value as a manufacturer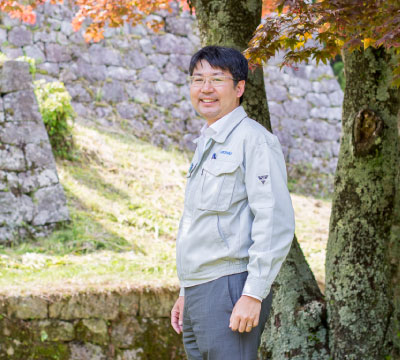 Toyotake Industry Co., Ltd.
President Koshiro Yokota
Our mission is to offer the best quality products made by excellent staff to our customers timely. Our company is composed of these excellent members and each ability gathers to create company's real value. It means each member's growth leads to our company's growth, and it enables us to offer much better value to our customers. We encourage our staff to work on any quality issue not passively but actively trying to have fun improving in a team.
Being a midium-sized company in not urbanized area makes it easier to notice surroundings change
In January 2015, I was appointed to a president. More than 50 years ago, Toyotake Kogyo changed business from an apparel factory to a growing car seat manufacturer taking advantage of sewing technology. At the same time, we started business in Inabu district, where was centered around agriculture and forestry, as the first company moving to the middle of mountainous area in Aichi. Automotive industry has grown by exports over a half century. Now the market has changed and become more complicated requiring variety of car interior. To keep up with the time, we set up a production process where we can produce small lot orders. Our business scale enables us to change flexibly while global and domestic market changes rapidly. Meanwhile, Inabu district has been facing aging and depopulation rapidly after municipal mergers in Heisei era. We take these local problems as our problems and keep working on what we can do for surrounding area in Inabu. We believe it leads us to the next stage of growth.
Frontier was in the middle mountainous area
Customers buying our products. Local customers having a potential to work in our company. Customers supporting our business. Our role is to provide creative work place and to suggest the best idea hearing various customer requests. The sky is the limit. We hope to grow together with our customers. For the next 50 years, we would appreciate it if you could support and cooperate with us.
PROFILE
会社概要
Company Name
Toyotake Industry Co., Ltd.
Established
1964.11
Capital
30,000,000 yen
Net sales
2,300,000,000 yen
Number of employees
100(Jan. 2017)
Major Customer
Toyota Boshoku Corporation
Business outline
Seat cover production of Toyota Motor cars.
Address
<Headquarters>
28 Nakasangyo Kuwabara-cho, Toyota-city, Aichi Japan 〒441-2521
TEL:+81-565-82-2501

<Iwamura Plant>
730-3 Iwamura-cho, Ena-city, Gifu Japan 〒509-7403
HISTORY
沿革
1964.11

Foundation of Toyotake Industry Co., Ltd.
1981

Introduction of large-sized two multi quilting machines

1984

Introduction of three 200t press machines

1987

Headquarter extension

1989

Foundation of EURIS brand


Leather car interiors for aftermarket customers
1991

Headquarter extension
Introducion of Automatic cutting machine (S93-7)

1992

Kozo Yokota became the president of the company
Introducion of Automatic cutting machine (S93-5)

1996

Introducion of Automatic cutting machine (5200)
2001

Iwamura Plant established

2003

Iwamura Plant established
Introducion of Automatic cutting machine (5250)

2005

ISO14001 certification
Iwamura Plant extension

2008

Introducion of Automatic cutting machine (5250)
2014

Acquired Yokokou Co.,Ltd. and Yuritsu Co.,Ltd.

2015

Koshiro Yokota became the president of the company
Began OPEN INABU project

2016

Sanage Base established
COMPANY POLICY
会社方針
COMPANY POLICY
「Dream Vitality Harmony」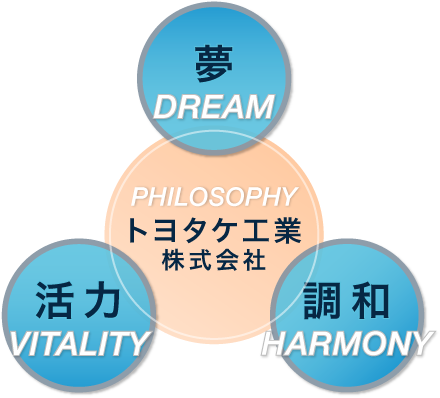 CODE OF CONDUCT
We commit to deliver products with quality
We try hard and learn everyday
We always respect human dignity
ISO
ISO取得について
January 17th 2003

ISO9001

June 3rd 2005

ISO14001
ACCESS
地図
Headquarters
Iwamura Plant